All iOS 13 supported iPhone and iPad models
8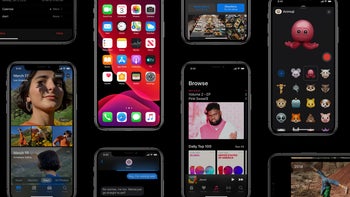 Apple announced iOS 13 yesterday
, and as usual, it turned out to be a massive release of new features and improvements. We can't imagine there being an iPhone user out there who wouldn't want to get iOS 13 on their device, once it becomes available this fall.
This, however, raises the question of iOS 13 device compatibility. Which iPhones and iPads are going to support iOS 13?
The good news is we won't have to wait until September to know, as Apple has already announced all the supported models.
iPhone 6 and 5S will not be supported
Last year's iOS 12 was a terrific release, which markedly improved system performance for a huge range of iPhones - from the brand new
iPhone X
, all the way to the venerable iPhone 5S. This year, however, Apple is finally dropping support for the two oldest generations: iPhone 5S and
iPhone 6
.
Yep, those guys were starting to get a bit long in the tooth alright, with their aging A7 and A8 processors, not to mention the very limited amount of RAM they pack. I personally owned the iPhone 6 for four years, and can confidently say that what eventually made it run and feel slow was the insufficient 1 GB of RAM. The A8 CPU was still going fine, but the limited RAM meant constant clearing and re-loading of apps in the memory, making for a sub-optimal experience.
With iOS 13, the oldest supported iPhone is going to be the
iPhone 6S
, which has the A9 chipset and 2 GB of RAM - double the capacity of the iPhone 6. And yes, this means that the
iPhone SE
is also getting iOS 13, as it shares the same specs as the iPhone 6S. Apple hasn't said yet if there are any specific iOS 13 features that aren't going to make it to these iPhones, so let's hope users of these models are indeed going to get the full, proper release.
And now, here's a complete listing with all the iPhone and iPad models that are going to receive iOS 13 (or in the case of the iPads - iPadOS) this fall:
| Phones | Tablets | Media players |
| --- | --- | --- |
| iPhone XS | iPad Pro 11" | iPod touch 7 (2019) |
| iPhone XS Max | iPad Pro 12.9" (2015, 2017, 2018) | |
| iPhone XR | iPad Pro 10.5" | |
| iPhone X | iPad Pro 9.7" | |
| iPhone 8 | iPad 6 (2018) | |
| iPhone 8 Plus | iPad 5 (2017) | |
| iPhone 7 | iPad mini 5 (2019) | |
| iPhone 7 Plus | iPad mini 4 | |
| iPhone 6S | iPad Air 3 (2019) | |
| iPhone 6S Plus | iPad Air 2 | |
| iPhone SE | | |