Outages are affecting all four major U.S. carriers
8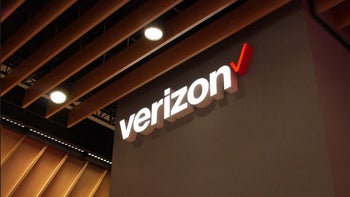 All four major U.S. carriers are experiencing issues this afternoon.
According to DownDetector.com
, T-Mobile, Verizon, Sprint and AT&T customers are reporting problems. The number of complaints from T-Mobile subscribers rose from 47 to 5,731 in minutes. 59% reported a problem with their phone, 33% were unable to access the mobile internet and 7% said that they could not connect to the carrier's network. The issues started at 5:22 pm EDT and are affecting subscribers in Houston, Chicago, Dallas, Los Angeles, Miami, Brooklyn, Minneapolis, Philadelphia, Denver, and Seattle. A T-Mobile spokesman says that it has "engaged our engineers and are working on a resolution."
UPDATE:
We have received a statement from T-Mobile CEO John Legere:
"Some customers are experiencing intermittent call issues on our network. Thanks for your patience... (T-Mobile Chief Technical Officer) NevilleRay and team are working to resolve the problem ASAP and have already started to see signs of recovery."
UPDATE 2:Looks like things are returning to normal as the number of complaints from subscribers has dropped off sharply. T-Mobile's CTO Neville Ray says, "Update: Call issues are resolved and service is back to normal. We apologize to those impacted by the disruption."
Since 6:14 PM EDT, Verizon customers have been having problems. 45% said that they have no internet connectivity, while 37% cannot use their phone. Verizon's outage has led to complaints from Washington, Fort Smith, Brooklyn, New York City, Philadelphia, Dallas, Jonesboro, Denver, El Paso, and Columbia. Since 5:50 pm EDT, Sprint customers in Chicago, Houston, Atlanta, Washington, Philadelphia, Orlando, Los Angeles, Dallas, Charlotte, and Kansas City have been dealing with outages. 57% complained about their phone, 37% can't use the mobile internet and 5% had a total blackout.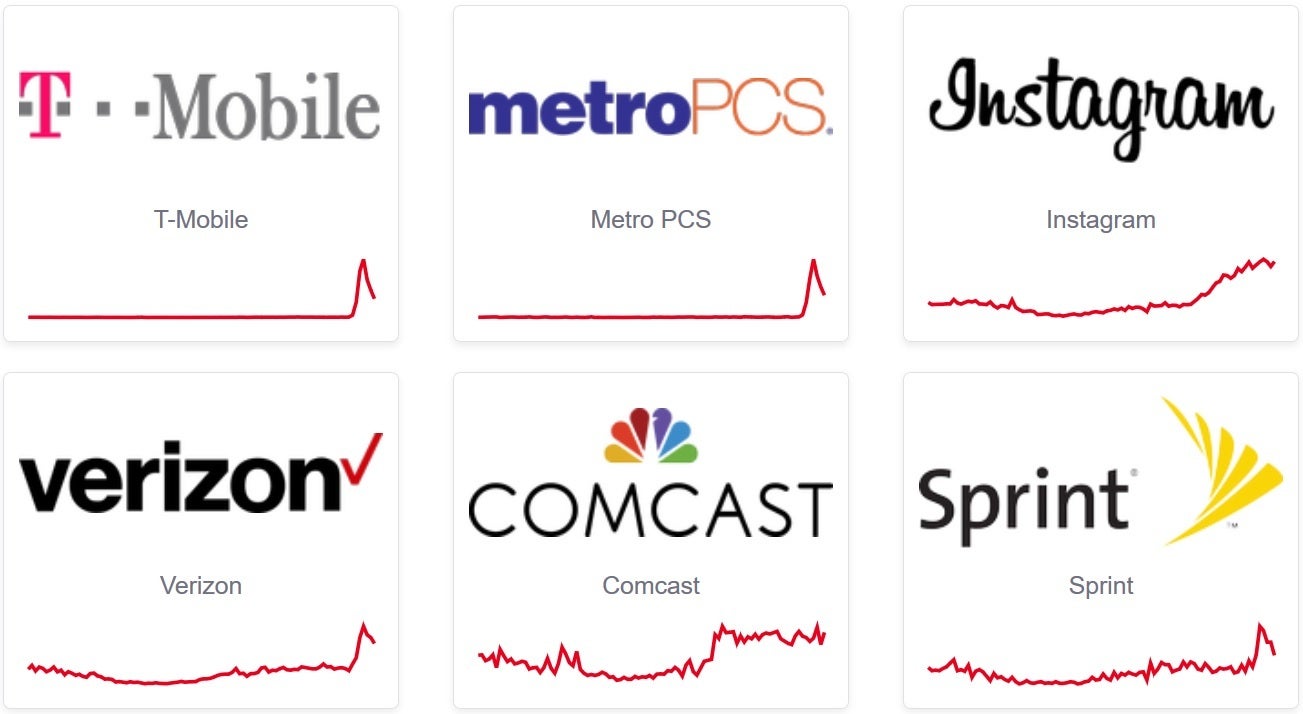 Outages are affecting all four major U.S. carriers
AT&T subscribers in Houston, Dallas, Chicago, Corpus Christi, Atlanta, Los Angeles, Charlotte, Victoria, Wood Dale, and Owensboro reported problems with the wireless operator's network. The outage started at 6:40 pm EDT and 66% of the complaints were about the mobile internet being down; 20% could not make a phone call and 12% can't connect to the AT&T network.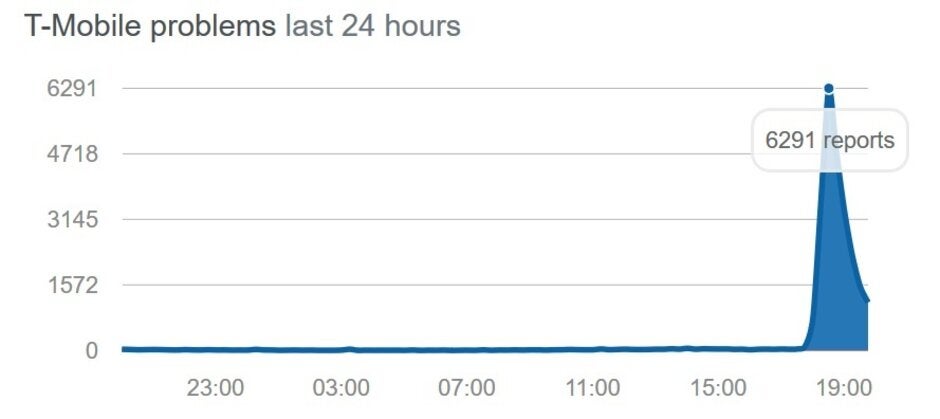 T-Mobile says its engineers are working to resolve the issue
Also affected by outages this evening are pre-paid carrier Metro by T-Mobile, which is not surprising since it uses T-Mobile's network. And Instagram users have also had problems today accessing their newsfeed and stories. Some can not log-in to the app.
This is a developing story, so keep checking in for updates. If you can.