All U.S. Android phones to get Android 2.1, some might require a wipe
This article contains unofficial information.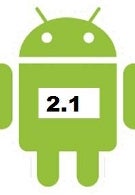 The guys at Android and Me were talking to people in the know and were told that every single Android device in the U.S. will be receiving the Android
2.1
upgrade. Processor speeds will prevent all of them from receiving every single feature of what you see on the Nexus One. For example, considering that the Motorola DROID will not be getting the animated wallpaper, we would imagine that this feature will be off limits to all current Android phones. One other piece of bad news is that according to the info received by Android and Me, some of the Android phones will need to get wiped before downloading the 2.1 upgrade. The DROID, currently running Android 2.0.1, might end up being the only model that won't require a wipe. The site also says that select models will have to do a PC install for the upgrade. Samsung recently did this with the Moment.
The carriers and the manufacturers are currently working out the details of the 2.1 upgrade and deciding whether or not to send out an OTA update or a PC installed one. The advantage of the latter would be the ability to make a proper backup and produce a higher rate of successful upgrades. The disadvantage is that it is a pain in the you know where, compared to an.OTA download.. All of this is set to take place in Q2 of this year with the G1 and the myTouch 3G the initial two first-gen handsets to get Android 2.1.
source:
AndroidandMe