All New HTC One surfaces once again: 16MP combined resolution for dual cameras revealed
93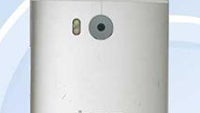 The
All New HTC One will get officially unveiled in less than a week
, on March 25th, but leaks obviously just won't stop until then. The latest one comes from TENAA, China's certification agency (similar to the FCC in the United States), and it shows us the China Mobile version of the HTC One with all its specific 4G LTE bands.
What's most interesting, though, is the listed combined resolution of the two rear cameras - 16 megapixels. We have seen leaked images of the new HTC One with two cameras on its back, and HTC is likely to have found a way to combine information from the two cameras for this 16-megapixel resolution. Chances are, that none of the cameras alone has a resolution of 16-megapixels, though. We are yet to see how this pans out in the real device, and how the dual rear cameras of the new HTC One will work together, but it's the first time we hear about a combined image resolution of 16MP on the One.
Another interesting tid-bit is a mention of an
'UltraPixel'
front-facing camera on the new HTC flagship. UltraPixel is the marketing name of the camera on the original HTC One, and it's a term applying to the larger than usual pixel size of the sensor. An UltraPixel camera could mean a huge improvement in the front-facing shots of the new handset, and hence a lot more selfies flooding the web.
The rest of the information that has surfaced over at TENAA is not all that surprising: the One is said to have a 5-inch 1080p display, a quad-core Snapdragon 801 system chip, 2GB of RAM, and the design is also pictured looking nearly identical to that of the original One (all things that we've already heard multiple times).
Finally, the listing also reveals that the new HTC One will have a version in red, in addition to the grey, silver and gold models that we already know about. Take a look at the images of the China Mobile version of the All New HTC One below, and tell us what you think about that 16-megapixel combined resolution.
source: TENAA (
translated
) via
Android Beat