AT&T reportedly set to raise DirecTV Now subscriptions by $5 a month for all plans
12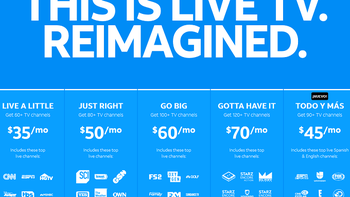 Now, AT&T is reportedly raising the pricing of its DirecTV Now app plans by $5 a month across the board. That information comes from emails sent to DirecTV Now subscribers from AT&T's marketing department. The new pricing is expected to take place later this month or in August. It would make the following changes:
Live A Little-60+ channels for $40/month.
Just Right-80+ channels for $55/month.
Go Big-100+ channels for $65/month
Gotta Have It-120+ channels for $75/month
In addition, subscribers will soon get an option for 100 hours of cloud based DVR service. Currently, 20 hours is free. Also on the way is Parental Controls, and more local channels.