All 7 continents are now represented in Google Street View for mobile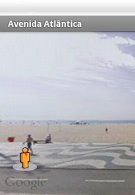 Continually expanding its reach, Street View in Google Maps can aid people in finding their destination since it provides a 360 degree view of specific locations. Now that Google added support for Street View in Brazil, Ireland, and Antarctica's Half Moon Island, Google can happily say that just about anyone can receive a virtual tour of the world thanks to their nifty feature.
Although the Google Maps application might not offer Street View for some mobile platforms, a decent majority are enabled for this functionality – with Android smartphones mostly dominating the playing field. So if you want to take a trip to see various hotspots around the world, Street View will get the job done without having you move from your spot.
source:
Google