All 277 New York City subway stations to offer Wi-Fi connectivity by the end of the year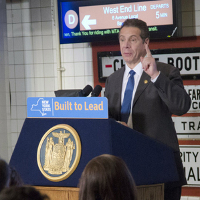 By the end of this year, all New York City subway stations will have Wi-Fi access. The announcement was made yesterday by New York governor Andrew Cuomo. The subway system is becoming more in touch with today's technology. Another initiative will allow those using mobile payment services like Apple Pay, Android Pay or Samsung Pay to use their phone to pay for tokens. This will be ready to roll by 2018.
The MTA is also planning on adding USB ports to stations, buses and subway trains to allow New Yorkers to charge up their mobile devices while on the go. 200 subway cars will have a USB port added this year, with another 400 coming in 2017. 1500 buses will offer Wi-Fi and USB ports by 2018.
"The MTA is absolutely vital to the daily functioning of New York City, but for too long it has failed to meet the region's growing size and strength. This is about doing more than just repair and maintain – this is thinking bigger and better and building the 21st century transit system New Yorkers deserve. We are modernizing the MTA like never before and improving it for years to come."-Governor Andrew Cuomo, New York
Currently, 140 subway stations are hooked up to cellular and Wi-Fi signals. All 277 will have Wi-Fi connectivity by the end of 2016. All subway stations will have cellular service by early 2017.
source:
MTA
via
Engadget