Alcatel literally bets big on phablets with 6-inch A3 XL: hands-on
5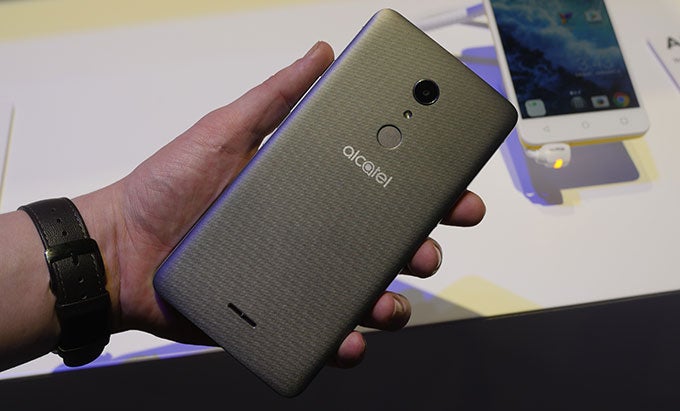 It's no secret that smartphones have matured to the point where it's easily possible to get by using one as your primary device: who needs a separate computer, or even a TV, when you have all this power at your fingertips? And while it's easy to point to any number of flagship phones and think about using one exclusively, that decision's a lot harder to make when your budget's limited, and you have to consider some trade-offs about which features matter most. If screen size tops that list of must-haves, Alcatel may have the phone for you, with
the CES 2017 launch of the six-inch A3 XL phablet
.
Design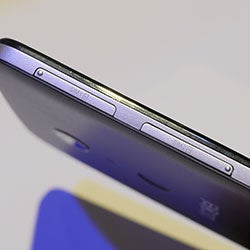 There's no getting around that a six-inch smartphone is going to be a little unwieldy, but Alcatel still makes a good effort to build a handset that has a legitimately interesting look to it. We checked out two basic variants for the phone's color scheme, one pairing a white back with a bold stripe of color around the handset's edge, and another that went for a more professional-looking solid tone across the phone's body. The fact that we have our choice of either is a nice concession, and helps make the A3 XL a viable option for users with varying design concerns.
The appearance of capacitive Android buttons under the phone's screen isn't necessarily our favorite choice, but it does mean that you get you use every last square inch of the A3 XL's display, and it has a certain appeal for users who may not be extremely comfortable with smartphones, serving as a visual reminder of how to navigate around the handset.
Another unusual design decision, but one we're able to appreciate, is splitting up the A3 XL's card support into three distinct slots: instead of a crowded hybrid dual-SIM/microSD tray, you've got fully separate slots for not just two SIM cards, but also a microSD card, letting you use as many or as few of those as you'd like
without having to sacrifice others
.
Formally, the A3XL has a rear-mounted fingerprint scanner for user authentication, but we also checked out variants of the hardware that lacked that scanner altogether. From the sound of things, different markets may see the A3 XL arrive with or without that feature present.

Display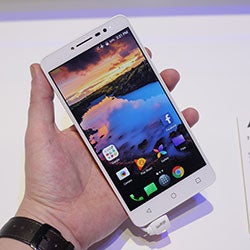 The A3 XL is a phablet first and foremost, and that means one big-as-you-can-get screen. But while the six-inch IPS LCD may fit that bill nicely, be warned that its resolution is one we're more likely to see on phones in the sub-five-inch space: just 720 x 1280. Something higher would have been nice, but that would also have meant a more expensive handset, and one correspondingly less accessible to users for whom device pricing is a very real concern.
Still, it's big, it's decently bright, and even if pixel density leaves something to be desired, we can imagine users getting a lot of enjoyment about watching TV and movies on a screen this large.
User experience
You're not going to find a lot of extraneous software features on the A3 XL, nor a heavily modified system skin. Instead, what you get is some largely straightforward Android action, and thankfully that involves Android's latest incarnation, 7.0 Nougat.
As far as performance goes, we didn't notice any major slowdowns during our hands-on time, but nor did we push the hardware particularly hard, either. The quad-core 1.1GHz MediaTek that powers the phone (at least in its official specs – though we also spotted A3 XL hardware that appeared to be running slightly speedier MediaTek silicon) should suffice for all kinds of not-particularly-demanding usage, and considering the market segment this handset is going after, that should suit the phone just fine.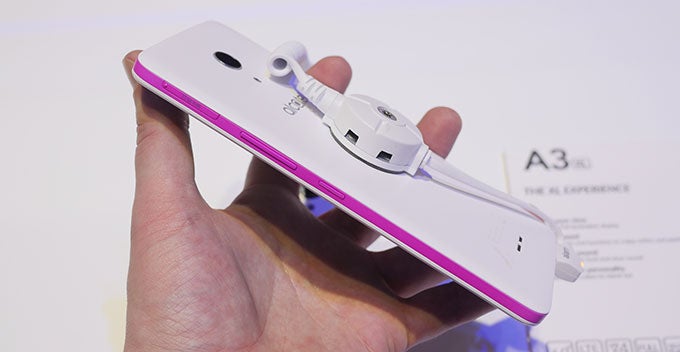 Camera
As announced, the Alcatel A3 XL is equipped with an 8MP main camera capable of shooting video in up to 1080p resolution, as well as a 5MP front-facer. But right now, the full story on this phone's camera capabilities is far from clear, and we looked at A3 XL hardware that had a 13MP main sensor, as well as hardware that only came with a 6MP camera. And depending on which of those variants we're talking about, camera software also changed. Much like the fingerprint scanner and maybe even the SoC, it looks like we're going to have to wait for the actual release of this handset in various markets around the world before we're able to say with utter certainty exactly what you can expect from the A3 XL's camera.
Battery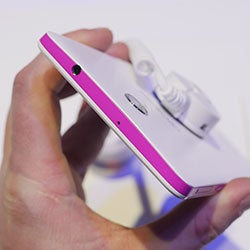 A little surprisingly for a handset this large, the A3 XL is only slated to land with a 3,000mAh battery – and that's a capacity we're seeing associated more and more with much smaller phones. On the plus side, between the conservative screen resolution and relatively low processor speed, it's not looking like power demands will be very high, so that juice is likely to go a lot further than it would on a more super-charged phone. For the moment, though we haven't heard any specific figures about just what kind of battery life users can hope to experience.
Expectations
Phones like the Alcatel A3 XL remind us that smartphones aren't one-size-fits-all, and what sort of capabilities matter in a handset are going to vary wildly not just from user to user, but also market to market. It very much remains to be seen if this particular intersection between features, pricing, and performance will actually resonate with shoppers when sales begin over the next couple months, but we're very curious to see how the A3 XL's story plays out.