Alcatel POP 4 family hands-on: Cheap or great value?
1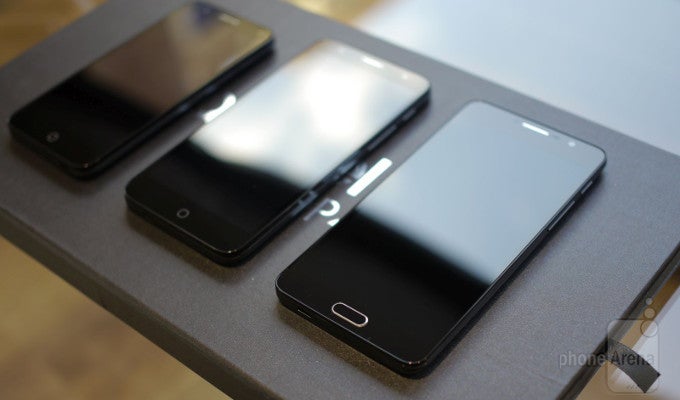 In Alcatel executives' own words, dropping the OneTouch in Alcatel OneTouch is no rocket science and only a small step in its agenda for 2016, which will supposedly see the TCL-owned company start anew—but not by burning the house down entirely. From what we were told, Alcatel is aiming to keep the spirit that once helped transform it into a household name by offering exceptional value, streamlined user experience, and products that exude quality.
The POP line has long been an attempt at just that, but with the 4th generation of the family, Alcatel is looking to seriously establish itself as the maker that crafts quality phones that you don't need a small fortune to get your hands on. And guess what: get our hands on the new devices—POP 4, POP 4+, and POP 4S—we did.
As mentioned, the selling point with these is affordability without too big a compromise in terms of build quality, design, and hardware. And design, in particular, is none too shabby, but nothing exactly mind-blowing either. The phones are made out of plastic, as you'd expect, though their backs have been treated to a nice, metallic matte texture that handles oily fingerprints very well. Relatively thin at 7.99mm (0.31 inches), the new POP 4 line spans the size spectrum, starting with the most basic, 5-inch POP 4, and culminating in the 5.5-inch POP 4+ and POP 4S, the latter of which is the defacto 'star' of the family with the best hardware. They all sit well in the palm and pass our obligatory in-hand feel test.
Another thing we were especially excited to hear is that Alcatel is very serious about streamlining the user experience and shortening the steps needed to carry out basic tasks such as sharing content across your social media accounts. To that end, the company will continue sticking to a mostly stock Android (Marshmallow) experience, with some customizations here and there. And so while the the look of the interface reminds of a heavy skin, it's only a facade, with your essential apps being the unadulterated Google creations. The devices felt decidedly stock-like.
A quick note on hardware, the top-of-the-line POP 4S utilizes an octa-core MediaTek chip, while the rest makes use of budget Qualcomm silicon along with 1GB/1.5GB/2GB of RAM as you go up in price. On the imaging front, the lower-end POP 4 and POP4+ make use of an 8-megapixel/5-megapixel main/secondary cameras, while the POP 4S goes a bit farther with a 13-megapixel main snapper with phase detection autofocus and a 5-megapixel selfie shooter with a flash and wide-angled lens. Out of the three, the POP 4S is also the only one sporting a fingerprint scanner, embedded within what looks exactly like a signature Samsung physical button. Still, the sensor worked well and fast, and is a nice surprise at the upper low-end.
Unfortunately, Alcatel is keeping mum on both pricing and availability, though it's not too hard for us to speculate that pricing will probably be within the 100 to 200 euro bracket for Europe. What we can confirm, however, is that Alcatel has every intention of selling these stateside—whether through third-party retailers or its own online store.