Alcatel OneTouch Idol 4 and 4S specs leaked in full by the manufacturer
18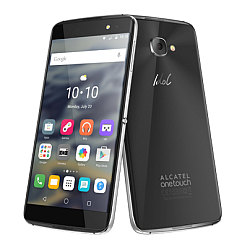 The hardware specifications of two upcoming Alcatel smartphones, the OneTouch Idol 4 and the One Touch
Idol 4S
, have been leaked by none other than the manufacturer itself.
A few hours ago, it was discovered that Alcatel's official website is hosting support pages for the 2016 revamps of the two previously mentioned smartphones.
Alcatel OneTouch Idol 4

The smaller of the two upcoming Alcatel smartphones will be called the Alcatel OneTouch Idol 4. Unlike its predecessor, which featured a 4.7-inch display with a resolution of 720 by 1280 pixels, the OneTouch Idol 4 will come with a 5.2-inch display running at a resolution of 1080 by 1920 pixels.
On the inside, the entry-level Snapdragon 410 chipset was replaced by the newer and more powerful Snapdragon 617 SoC, a chip that comes with four ARM Cortex-
A53
cores clocked at 1.7GHz and four additional A53 cores clocked at 1.2GHz. The SoC will be paired with either 2 or 3GB of RAM, depending on the version, and should offer significantly more processing power than what was available on the OneTouch Idol 3 (4.7).
Other specs for the OneTouch Idol 4 include a 13MP primary camera, an 8MP secondary shooter, 16GB of expandable storage, and a 2160mAh battery.
Alcatel OneTouch Idol 4S

The larger Idol 4S is basically a refreshed version of the 5.5-inch Idol 3 (5.5). As per the support pages, the handset will feature a 5.5-inch AMOLED display with a resolution of 1440 by 2560 pixels, which is a notable upgrade over the 1080p IPS panel on the Idol 3 (5.5).
Under the hood, the Snapdragon 615 chip (octa-core ARM Cortex A53) featured by the 5.5-inch Idol 3 appears to be replaced by a more powerful Snapdragon 652 chipset, a SoC that makes use of four ARM Cortex-
A72
cores clocked at 1.8GHz and four Cortex-A53 cores clocked at 1.4GHz. In the memory department, the handset gets an extra GB of RAM (3GB in total) and 16GB of extra internal storage space (32GB in total). The camera setup consists out of a 16MP primary shooter and an 8MP secondary sensor.
On paper, the Alcatel Idol 4 and Idol 4S appear to be significant upgrades over their direct predecessors. Unfortunately, we do have to note that it's improbable for the manufacturer to maintain the prices it asked for the previous-gen Idols, ones of $180 and $250, respectively. Given that the comparatively low prices of the Idol 3 smartphones weighed heavily in our positive perception of the handsets, we're sure hoping that the price bumps will be kept to a minimum.
With MWC around the corner, chances are that we'll get to learn more about the Alcatel Idol 4 and the Idol 4S by this month's end.