Alcatel One Touch Tab 8 HD hands-on
7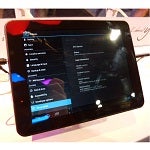 If you have been confounded by 7-inch tablets that simply felt too small and saw no attraction to the 9 or 10-inch tablets, Alcatel hopes you will give its 8-inch offering a try, the One Touch Tab 8 HD.
Instead of competing directly with the other high-end 9-inch-plus tablets out there, Alcatel thinks it found a happy medium with the Tab 8 HD. Like its 7-inch sibling, the 8HD is running Android Jelly Bean through the same dual-core 1.6GHz ARM Cortex A9 processor. The display is 1024x768. There will be options with regards to on-board memory, 8 or 16GB of storage, plus microSD expansion. 1GB of RAM is available. There will also be two main cameras offered, either a 2MP or 5MP unit. The front camera is the same 0.3MP found on the Tab 7HD. Connectivity is Wi-Fi, 802.11 b/g/n.
Availability and pricing for the Tab 8HD was not announced.