Aggressive network expansions put cell phone tower maintenance in the top dangerous jobs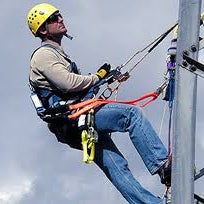 Crews that build and maintain cell phone towers are 10 times more likely to have deaths on the job than your average construction work crew, a PBS Frontline investigation shows.
These is the same show that broadcast the working conditions at Foxconn for the first time, and it seems that they have made shining a spotlight on bad practices in the cell phone industry a priority now.
Carriers are insulated from liability claims with a few layers of subcontracting for tower buildout and maintenance, but between 2003 and 2011, nearly 100 people have died in work around communication towers, 50 of whom perished climbing cell towers, mostly because safety rules and equipment regulations were routinely ignored in the rush to keep deadlines.
Death rates accelerated during in the rush to accommodate the data consumption surge that AT&T was unprepared for when it got iPhone exclusivity, with fifteen climbers dying working on the carrier's towers since 2003, with 11 cases fitting between 2006 and 2008. "
I don't think there's any question that the pressure to build out the network has been a contributing factor to fatalities,
" was Steve Watts' opinion, and the guy was a risk manager at AT&T until 2007. That fatalities number is five for T-Mobile's subcontracting crews, two for Verizon and one for Sprint.
Carriers and subcontractors have tightened the safety rules and regulations, but they say once the workers are on the job site, they are pretty much left to their own consciousness. Moreover, the work, which pays $10-$11 an hour, attracts a lot of "two guys and a rope" companies, now that cell phone towers have grown from 5, 000 in 1990, to 280, 000 twenty or so years later.