No, AT&T subscribers; your Apple iPhone is not connecting to a true 5G network
3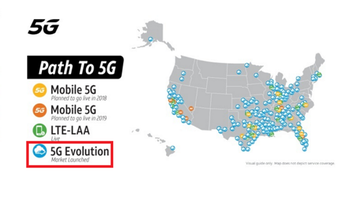 Even though Apple isn't expected to have a 5G enabled handset until 2020, some AT&T customers with an iPhone are going to be convinced that they are connected to a 5G network following the iOS 12.2 update.
According to MacRumors
, that's because following the installation of the recently released iOS 12.2 beta, some iPhone users on AT&T noticed the 5G E icon on their device's status bar. But in this case, seeing is deceiving.
With AT&T's 5G Evolution service running in over 400 markets, once the final version of iOS 12.2 is disseminated to iPhone users throughout the U.S., there are bound to be quite a few confused AT&T customers walking around, iPhone in hand, wondering why there has been such a big deal made about 5G. Once you read this article, you won't be one of them.


Following the installation of the iOS 12.2 beta, some iPhone users spotted the 5G Evolution icon on their phone's status bar