Affordable Apple iPhone 6c tipped to launch in Q2 2016 with 14nm/16nm FinFET chips on board
27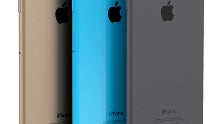 According to a new report, Apple is expected to launch an iPhone 5c successor in the second quarter of 2016.
The new report, coming from Taiwanese publication Digitimes, quotes unnamed insider sources from the semiconductor industry as it argues that the next-generation budget iPhone will be launched in Q2 2016. Before moving any forward, it should be mentioned that Digitimes has a variable track record when it comes to breaking news un upcoming products, meaning that you should digest this info with a dose of skepticism.
While early rumors argued that Apple will launch an affordable iPhone to go along with the impending
iPhone 6S
and
iPhone 6S Plus
, more recent information suggested that the budget iPhone will be delayed for the
first half of next year
. This new report from Digitimes seems to fall in line with what was previously rumored about the smartphone, expected to be called the iPhone 6c.
Allegedly, the iPhone 6c will make use of FinFET chipsets manufactured by both Samsung (using the 14nm node technology), and TSMC (using the 16nm technology). This info correlates strongly with previous rumors on the Apple A9 chip, one that's also expected to be
manufactured by Samsung and TSMC
using the same chip manufacturing technologies.
According to the Digitimes report, Apple originally intended to equip the iPhone 6c with a chip manufactured using TSMC's 20nm process, but ultimately decided to switch to the newer tech in order to take advantage of the extra processing power and the lower power consumption ratios associated with smaller node manufacturing processes.
Recommended Stories