Adobe says FarmVille video done with Flash Lite, says Flash 10.1 not hard on batteries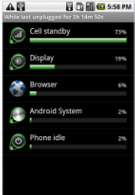 The other day we
showed you
a video of Facebook's hugely popular FarmVille game being played on a Nexus One. The idea was to show you how Flash 10.1 would work on an Android
2.1
device. Since the N-One does not yet have Flash, the phone was using a leaked ROM from the HTC Desire as the Desire is expected to have Flash 10.1 support. When the video circulated, word spread about the somewhat less than stellar way Flash responded to the game on the phone. Adobe felt it needed to defend itself and rightly so. As it turns out, the leaked ROM used from the HTC Desire contained an alpha version of Flash Lite, not Flash 10.1. An OTA update in the first half of the year will give the Desire Flash 10.1 support, but for now, the video was showing Flash Lite and that explains everything.
At the same time as defending Flash, Adobe wanted to put to rest worries that Flash 10.1 would drain the batteries of Android phones and released the video below that shows that battery life will not be as impacted as much as feared by Adobe's software. It shows that video can be played for more than 3 hours over Wi-Fi from video site YouTube in H.264. The result showed only 6% battery usage for the browser.
source:
FlashBlog
Battery Performance with Flash Player 10.1 on the Nexus One from Mark Doherty on Vimeo.