Adobe CEO casts dark clouds over iOS, Android to overtake it because of Flash support
24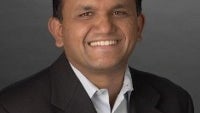 Adobe's man in charge Shantanu Narayen might not have been the biggest proponent of Apple, but his recent predictions go way beyond that – Narayen has predicted that Google's Honeycomb platform will eventually
overtake Apple's iOS
in the tablet wars because…
it supports Flash.
Currently, the iPad is Apple's stronghold in tablets, occupying a large portion of tablet sales, while Honeycomb tablets despite their great number have a relatively low market share. Apple's CEO Steve Jobs have stated numerous times his opinion about
Flash causing crashes
and slowing down significantly performance. While there's certainly a grain of truth in that, Narayen says:
"It's a business model issue, its all about control of the applications that you can run on that platform that bring that platform to life."
Adobe's chief executive also mentions that Flash on iDevices is not exactly a no-go:
""What
Apple doesn't allow us
to do is to build flash content within the browser," Narayen added. "If you can build the application using our tools and compile it down to the iDevice platform that works"
The CEO also mentioned that the feud between Adobe and Apple is a myth, but at the same time he was far from optimistic about the impact of Apple's decision to go with no Flash support. As the
industry is slowly shifting to HTML5
, Adobe seems prepared for the transition. "We actually not only welcome the evolution of HTML, we are actively contributing to it. Adobe is contributing typographic expertise and design aesthetics," Narayen concluded. How will that help sales of Honeycomb tablets remains a mystery as HTML5 is also supported by the iPad 2. In either case, let us know if you think that Adobe Flash is such a critical factor in your perception of a tablet in the comments below.
source:
Pocket-lint