Acquisition by ARM could help upcoming smartphones and tablets replace mobile game consoles
15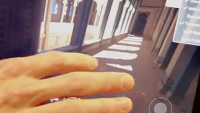 Thanks to an acquisition by silicon slinger ARM, smartphones and tablets might soon finally sound the death knell for mobile game consoles. ARM purchased 3D gaming specialist Geomerics whose claim to fame is making video games look more true-to-life with photo-realistic imagery. For example, if the sun is positioned in a certain spot on the screen, Geomerics' Enlighten system is charged with making sure that all appropriate shadows are seen, and in the correct position.
While terms of the deal were not disclosed, ARM will run Geomerics as a subsidiary, although the company will run independently. Geomerics' technology can be found in games like
Battlefield 3
and
Battlefield 4
,
Need for Speed Rivals
,
Eve Online
, and
Medal of Honor: Warfighter
.
"The innovative technologies being developed by Geomerics are already revolutionizing the console gaming experience and are set to rapidly accelerate the transition to photo realistic graphics in mobile. Empowering Geomerics' portfolio with ARM's graphics capabilities and market reach will be transformative for the user experiences in future mobile and entertainment devices."
-Pete Hutton, EVP and GM Media Processing Division, ARM
"With lighting technologies developed by Geomerics, graphics artists can achieve truly realistic global illumination and other advanced lighting features in real time across multiple platforms today. This combination of ARM and Geomerics accelerates the realization of our vision to bring next generation console graphics to mobile devices. Being part of ARM will allow us to accelerate our advanced developments for console and mobile platforms while also providing us with unmatched insights into the platforms and devices of tomorrow."
-Chris Doran, chief operating officer, Geomerics
Electronic Arts is a customer of Geomerics and is delighted to hear about the merger. Perhaps the game maker knows what the future looks like as smartphones and tablets replace the current range of mobile game consoles. You can check out how well Enlighten works on ARM's Mali GPUs by clicking on the video below.
source:
VentureBeat
,
9to5Mac
via
BGR