Acer's new Iconia Talk S is a phablet with a 7-inch display
6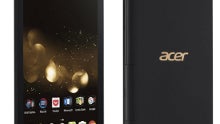 Having launched
the new Liquid Z6 and Z6 Plus smartphones
at IFA, Acer has also just unveiled a giant phablet with a 7-inch display called the Iconia Talk S. Aimed at business users, the dual-SIM slab includes 4G LTE support along with the company's Iconia Suite of apps.
This isn't the first time that Acer has dropped a smartphone with such a humongous display. In fact, it's not
even
the first Iconia Talk S we've seen from the firm. A couple of years back, the
Acer Iconia Talk S introduced the idea of a tablet
that can also make calls like a normal smartphone. Larger than your traditional phablet, the 2016 version packs an updated design along with newer internal hardware.
A low-cost device, that large display scrimps with a 720 x 1280 resolution, which sets the tone for a host of middling specs. A 1.3 GHz quad-core chipset is accompanied by 2 gigs of RAM, and there's an option of 16 or 32 GB of expandable storage. Along with the aforementioned dual-SIM and LTE support, there's a 13-megapixel main snapper, as well as a 2-megapixel sensor for selfies.
Like the Z6 Liquid and Z6 Liquid Plus, the Android 6.0 Marshmallow-powered device will only be made available in certain regions of Europe, the Middle East and Africa. It'll apparently retail for €169, which translates to around $190 U.S.
Could you imagine holding a 7-inch tablet to the side of your face? Or has Acer's new device pushed the boundaries a little too far? Take a peek at the press images, and let us know of your impressions in the comments.
Recommended Stories