Acer swings into the red for the first time in its history, iPad to blame
7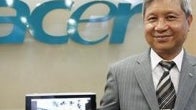 Acer, the second-largest PC maker in the world, reported wider than expected loss in the second quarter of the year as its sales were
cannibalized by the iPad
, but Acer chairman JT Wang was quick to attribute this to a
"correction period"
for the company, which aims to shift its focus to mobile. The chairman also predicted that the iPad
"fever"
is only temporary and will eventually recede, bringing back customers' attention to notebooks. Wang has previously also tried to cast dark clouds over the iPad projecting that it would only occupy 20% to 30% of the market last year, but Apple's tablet is still dominating the segment.
Acer's net loss amounted
to $234.3 million (NT$6.79 billion) in the second trimester of the year. This is more than double the loss estimate by analysts, which expected the company to only lose NT$3.3 billion. The loss comes after the company had to clear up inventory in Europe and pay severance to its high-ranking executives.
Acer's chief executive Gianfranco Lanci resigned in March over a conflict with top management about the future of the company, which is now boosting its mobile division. The current management argues that all Acer needs is
"more time and effort"
to reorganize. The company is currently offering the Acer A100 and Acer A500 on the US market, both running Android.
via
Reuters