Acer beTouch E140 comes with a touch of Froyo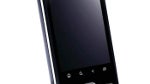 Acer is stepping up its smartphone presence with another Froyo treated device and this time it is the low-end 2.8-inch Acer beTouch E140. The smartphone is expected to hit European markets around Christmas, but it is yet unclear whether it will come to the US.
The handset was spotted recently in Italy and is expected to cost around $260 for retail customers. The Acer beTouch E140 offers an almost full connectivity bundle with Wi-Fi and Bluetooth, and HSDPA/HSUPA is also on board so you can surf the web at 3G speeds. This is a low-end device and at such a price the 600MHz and the 2.8-inch QVGA display are no surprise.
Designwise, the beTouch E140 resembles closely Acer's previous model in the lineup, the
beTouch E120
. Judging by the similarity, we are to settle with a resistive touchscreen on the E140 as well. The new handset will face some serious competition by the 3-inch
LG Optimus One
.
source:
Unwired View