According to an analyst, WP7 launch is a success, may lead to head-to-head battle with Android
11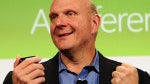 According to the prominent Wall Street analyst Charles Wolf of Needham & Co, the launch of Windows Phone 7 was a success and this may lead to a head-to-head battle between Microsoft's new mobile OS and Android. If this happens, Apple is expected to be the big winner.
Reports are that Windows Phone 7 is
not selling well
and that iOS and Android are going
from strength to strength
. That doesn't stop this analyst to see the first month of WP7 as encouraging and to remind us that Microsoft has a marketing budget of $500 million that would "buy the support of the leading smartphone manufacturers."
It is widely speculated that
the iPhone is coming to Verizon
in 2011 and Wolf argues this would be a massive blow for the green robot:
"Android benefited from the absence of the iPhone on the Verizon network, because the carrier spent heavily to promote the platform as an alternative to the iPhone. Android effectively moved into a vacuum created by the implosion of Windows Mobile."
This, along with the fact that both Android and Windows Phone 7 share a similar model (Google and Microsoft use multiple manufacturers for their handsets as opposed to the Apple/RIM model of producing its own devices), means that if Windows Phone 7 enjoys a long-term success, it would be Android that would suffer the most:
"It's difficult not to conclude that the Android platform will be impacted more than any other operating system because of the similarity of the two licensing models."
What's your opinion on this report? Does it seem viable to you that Windows Phone 7 may prove to be a worthy foe of the green robot, giving the number 1 spot to Apple in the process or this is just a Redmond-inspired wishful thinking?
source:
Computerworld
via
WP Central