AT&T and FirstNet team up on compatible phones for first responders, here's the list
1
AT&T is the preeminent carrier when it comes to natural and man-made disaster services now. Back in 2017, it won a quarter-century contract from FirstNet to roll out and maintain a dedicated LTE network that will exclusively serve the communication needs of "first responders" like police officers, firefighters, emergency medical and other services throughout the United States' 56 states and territories.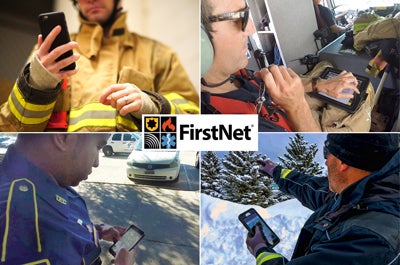 This first responders' network has been a long time coming, ever since the 9/11 communications kerfuffle forced the government to set aside 700 MHz band 14 spectra and a couple of billions to build a nationwide emergency platform, and awarded the goods to AT&T last year. Verizon's current emergency network offering, however, will also be upgraded for better performance, and a VP was quick to remind everyone that Verizon has 400,000 square miles more territory covered than AT&T. AT&T, in its turn, promised that 95% of the US population will be covered by 2022, and FirstNet will run on its own hardware, separate from all commercial traffic.
In fact, FirstNet just sent us a press release that details how its partnership with AT&T will play out in terms of available phones. All those firefighters, paramedics, and other emergency responders who aren't provided with a compatible device by their respective agencies can pop into an AT&T store, or sign up for one online. They will get a FirstNet SIM card that would give them access to the physically separate network core.
Since about 70% of the firefighters in the U.S. are volunteers, the freedom to sign up as Subscriber Paid Users in addition to Agency Paid Users (the FirstNet access tiers), will let them use the same channels as if they were government or state agency employees. In addition, AT&T listed all the phones that are fully or partially compatible with its FirstNet core out of the box, here's the list:
• Samsung Galaxy S9 and S9 Plus
• LG V35 ThinQ
• Moto G6 play
• Samsung Galaxy J3
• Sonim XP5S
• Sonim XP8
• Nighthawk LTE Mobile Hotspot Router

These other devices can also be used with FirstNet:

• Apple iPhone X, 8, 8 Plus, 7, 7 Plus, SE, 6, 6 Plus, 6s, 6s Plus
• Samsung Galaxy S8, S8 Plus, S8 Active
• Samsung Note 8
• BlackBerry KEYone
Verified First Responders Can Sign Up for Service at Any of Our 5,300+ Locations Nationwide, or Anytime Online

The doors to more than 5,300 AT&T* retail stores across the country are now open to verified1 first responders interested in signing themselves up for FirstNet service. This makes the groundbreaking technology locally available to first responders. Verified first responders also have the option to sign up online.

FirstNet is the country's first nationwide public safety communications platform dedicated to first responders. Being built with AT&T, in public-private partnership with the First Responder Network Authority (FirstNet Authority), FirstNet is bringing public safety a much-needed technology upgrade to help them connect to the critical information they need. Every day. And in every emergency.

"FirstNet is public safety's network. It's giving them access to tools they've never had before – tools that can transform their emergency response," said Chris Sambar, senior vice president, AT&T – FirstNet. "And now, no matter where they live or work, first responders can easily subscribe to their network. This means public safety nationwide will no longer be limited by outdated or unreliable communications capabilities."

Some EMS, fire and law enforcement agencies don't provide their personnel with wireless service plans or devices. So, the launch of FirstNet mobile plans for Subscriber Paid Users lets verified first responders sign up for FirstNet service under a personal account. This helps ensure first responders everywhere can access the power of FirstNet. Both career and volunteer first responders can qualify.

"According to the latest findings from the National Fire Protection Association, 70% of firefighters in the U.S. are volunteer," said Fire Chief Ron Oettel, Lititz, Penn. "That's more than 800,000 of us who are often the first to respond to emergencies – fires, medical crises and disasters, among others – in small and rural communities across the country. Having the best tools possible is critical. And FirstNet just made it easier for us to have the best."

Regardless of whether they sign up as Subscriber Paid Users or become Agency Paid Users, all first responder users will have access to the same critical capabilities of FirstNet. Users can receive a FirstNet SIM card connecting them to the physically separate, dedicated FirstNet core.

"FirstNet is for every responder. Whether you are a career or volunteer member of the public safety community, FirstNet is your network," said FirstNet Authority CEO Mike Poth. "The launch of the Subscriber Paid offer shows that FirstNet is doing exactly what it's designed to do – support our first responders when and where they need it. Now, in communities across America, we can help ensure that this groundbreaking technology quickly gets into the hands of any first responder to help them save lives and protect communities."

To learn more about FirstNet, go to att.com/firstrespondernews. To explore FirstNet service plans or devices, go to FirstNet.com.

1FirstNet is exclusive to the public safety community, so eligibility must be confirmed before access will be granted. Qualified first responder agencies enter into an agreement with AT&T that enables them to verify individual first responders who are eligible for the Subscriber Paid User offer through an online portal. Verified first responders will then receive an activation code that can be presented in store to sign up.