AT&T's ad for the Samsung Galaxy S6 Active shows the phone going through a "life simulator"
13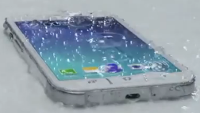 The
Samsung Galaxy S6 Active
is an AT&T exclusive in the U.S. Because the
Samsung Galaxy S6
removed the IP67 certification that the
Samsung Galaxy S5
had, those seeking protection from dust and water on the latest version of the Galaxy S line will be forced to turn to the Galaxy S6 Active.
The Samsung Galaxy S6 Active has an IP68 certification which allows it to be submerged in up to 4.92 feet of water for as long as 30 minutes and emerge unscathed. It also can be dropped from a distance of 4 feet or less and still live to tell the tale. According to AT&T, the device can withstand dust, shock, vibration, temperature extremes, humidity, and high altitude.
While most of the specs match those on the regular version of the Samsung Galaxy S6, the Active has a plastic body instead of a metal one. It also features a battery that at 3500mAh, has a much higher capacity than the 2550mAh cell found on the regular model.
To promote the phone, AT&T has produced a commercial that shows the (made up) "life simulator" used to test how well the Galaxy S6 Active is protected from all of the little problems that other handsets would succumb to. It's a cute spot that might produce from you a chuckle or guffaw.
source:
FunnyCommercials
Recommended Stories