AT&T's HTC One X is listed as being "out of stock" on its website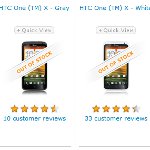 a lot of praise
surrounding
AT&T's version of the HTC One X
, even more when it's sporting that lovable
4G LTE connection
, but if you're in the market of picking one up online soon, you'll be surprised to know that it's currently not available.
Specifically, HTC's beauty is "
out of stock
" through AT&T's web site – meaning, both the gray and white variants are not available momentarily for purchase. Of course, it could point to two distinct possibilities, with one being that it's simply one hot item, which is great for sales figures and all. On the other hand though, it could also hint that initial inventory wasn't up to the proper level to meet the demand, so it's anyone's guess as to when it'll be replenished.
Nevertheless, the alternative route in snatching a handset is to basically head into your local AT&T retail store and find out if it's there. If not, there are still a host of other third party retailers, such as Amazon and Best Buy, that probably are still holding stock of the highly prized smartphone. Whatever the case, there's no arguing the fact that the HTC One X is one hot device at the moment – and Sprint customers are sure to relish with the carrier's version too!
source: AT&T (
1
&
2
) via
Android Central