AT&T scores 'Best U.S. Network' prize against Verizon and T-Mobile in unique testing across America
6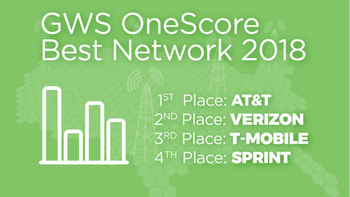 T-Mobile has
OpenSignal surveys
to brag with, Verizon boasts
RootMetrics tests
, and now it's AT&T's turn to win a nationwide measuring spree, this time by the network quality testing specialists from Global Wireless Solutions (GWS). Their unique OneScore approach combines real-life testing with user impression surveys for a more complete picture.
GWS seemingly got tired of sizing up carriers around the globe and focused on the best in the US this time around. We kid, as the shop is regular in testing American carrier networks, and its methodology is very robust, too. It doesn't rely on anecdotal user measurements only but actually involves driving around and walking with testing equipment, like what RootMetrics does. Thus, when the Global Wireless Solutions "Nationwide Test of Mobile Networks" is out, we ought to listen to its conclusions.
Despite that GWS ranked AT&T number one, it was an aggregate score derived from various categories, where oftentimes another carrier took the individual first spot. Performed between January and August 2018, the 8+ million tests in 501 key wireless markets in the US actually pegged Verizon as having the fastest upload speeds, for instance.
AT&T, however, grabbed the cake for best video streaming and call retaining (smallest number of dropped calls), while T-Mobile's wideband codec netted it the best call quality prize. AT&T also scored top in reliability and throughputs, and it is the aggregate quality and stability of its network that earned it the final prize in the 2018 US carrier testing by GWS.