AT&T too slow to process Lumia 920 orders, users complain
14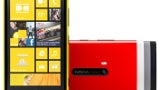 Whether due to excessive amount of orders, or simply because of sluggishness, it seems like AT&T is finding it hard to process all orders for the new
Nokia Lumia 920
on time.
According to a number of reports from users who have placed orders for various variants of the Lumia 920, AT&T is yet to process and ship their handsets. Worst of all, it's said that neither the carrier, nor Nokia has bothered to inform the customers of any reasons for the delay, or at least, apologize. Because of that, it's not clear yet if there's some kind of supply shortage which renders these orders impossible to deliver, or there's some other problem.
Still, some users have indeed received their new handsets and are currently exploring every single feature that's part of the impressive package. However, some are reportedly having issues with the battery life of the 920, which, if true, might mean that we're having
the Lumia 800 all over again
. Still, this issue is yet to be confirmed, so it's all good for now, at least official.
Well, what do you know, in case this sloppy order processing is indeed due to insufficient supply, we might as well be witnessing the grand comeback of Nokia. Of course, it could also mean that there are big problems in Nokia's supply chain...
via:
WPCentral