AT&T to come up with 4 new messaging phones and 3 new services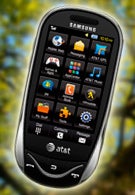 First, we have the
Samsung Strive
. To be released on March 21, the Strive will be a simple messaging handset, equipped with a 2MP camera, 3G and a 2.6-inch QVGA display. It will slide vertically to reveal a full QWERTY, the keys of which seem to be shaped similarly to a BlackBerry's keyboard. The price of the Samsung Strive will be temporarily set to $19.99 with a two-year contract and after a $50 mail-in rebate.
Samsung Strive Specifications
Then comes the
Samsung Sunburst
– a touchscreen phone with a rather futuristic design, which we like, at least on the official photos. The Sunburst will shine on you with a 3-inch WQVGA display, 2MP camera, microSDHC slot, GPS and
EDGE
support. The Samsung Sunburst will also become available on March 2, but for $39.99 with a two-year contract and after $50 mail-in rebate.
Samsung Sunburst Specifications
The other two offerings come from Pantech, but there are no images of them yet. The
Pantech Link
is said to be a slim, full QWERTY device that will be available in the following weeks, while the
Pursuit
will combine a touchscreen with a portrait-sliding QWERTY keyboard. It should be available in the summer in green or blue colors.
Now, let's see what AT&T has prepared on the software front. Keep in mind the following three services will make their debut with the Samsung Strive's launch on March 21.
AT&T Address Book

will sync your contacts with an online server, you'll always have your phonebook backed-up and you'll also be able to access and manage it from either your phone or computer. It will also allow you to import contacts from other web-based sources like e-mail accounts. Using it will be free of charge.
Next Generation Messaging

will bring features, such as "reply all" functionality that will let you respond to up to 10 contacts, a threaded-style conversation display and a consolidated inbox.
AT&T Mobile Share

will let you share photos and videos (maximum file size is set to 10MB) from your cell phone with your computer, social networking sites, people and a personal "storage locker" on the Internet. Users will be able to access the content in their storage lockers from a computer or a phone. AT&T Mobile Share will be available for $10 per month for 50 media transfers. Pay per use price will be $.35 for a single transfer. Your maximum storage limit will be 250MB, but this can be expanded to 10GB more, for another $5 per month.
So, now that you know what AT&T is going to release real soon, are you satisfied? Feel free to use the comments below to express your opinion.
source:
AT&T