AT&T to buy some Alltel assets from Verizon
This article contains unofficial information.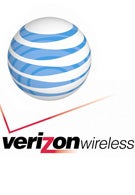 As 2009 started, we
reported
that Verizon Wireless was about to leapfrog AT&T to become the nation's largest cellular carrier after closing its acquisition of Alltel. The latter's 13 million subscribers added to Big Red's customers to form a company with more than 80 million users. How ironic it is now that with Verizon directed by regulators to rid itself of some of Alltel's assets, it appears that AT&T will be the buyer for the majority of them, paying Verizon $2.5 billion dollars in cash for assets in 24 different markets. When we originally passed on the news of the Alltel acquisition, we mentioned that the Feds would want Verizon to divest itself of 2 million of the accounts it acquired from the regional carrier in the $28.1 billion acquisition. After the divestiture, Verizon will remain the nation's largest cellular company and will have to, until early July, complete the sale of some of Alltel's remaining property that is still on the books.
source:
WSJ