AT&T still going by September 25th deadline for iPhone MMS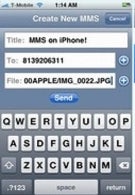 There have been reports of Apple iPhone users in the U.S. suddenly receiving/sending picture messages even though AT&T has given a date of September 25th as to when they will start that service. After waiting all of these years, it must be frustrating to be so close but still, a good week and a half away from MMS. Some owners of Apple's touchscreen device found that by updating their carrier settings, they were able to get MMS going on their phone. The problem was that by updating the settings, many users also found negative side effects like the loss of Visual Voicemail or even the loss of simple phone functions.
AT&T spokeman Mark Siegel was adamant about the September 25th deadline. "September 25th is still the date that MMS will be available to iPhone users," he said, "We can't comment on what people might have been doing" to get MMS to work in the meantime. One thing that those with working MMS function have in common is that the recent OS upgrade to
3.1
for the iPhone also updated the AT&T carrier profile to version 5.0. You can try to update this on your device to see what happens, but again, you do risk losing the phone part of the iPhone and walking around with just "i" is not going to help you stay in touch.
Apple iPhone 3GS Specifications
|
Review
source:
TUAW
,
USATODAY