AT&T reports better results than expected, with a 9.7% drop in Q1 earnings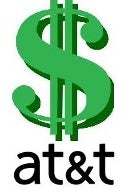 Thanks to the strong performance of its wireless division due to increased sales of the Apple iPhone 3G, AT&T reported first quarter earnings of $3.1 bln. The 53 cents a share is still a 9.7% drop as compared to the initial figure posted in Q1 last year, but still beat the expectations of Wall Street analysts.
The carrier has added 1.2 mln. new subscribers after accounting for those who left the network and 875,000 of the new customers signed a contract. This is a gain of 24.1% from last year's figures. Ma Bell sold 1.6 million Apple touchscreen devices with 40% of their buyers becoming new AT&T customers. Craig Moffett, an analyst with Sanford Bernstein, said the iPhone was the main reason behind the networker's growth, as revenues from wireless data rose 39% in the period to $3.2 bln. In comparison to the strong wireless performance, AT&T reported that revenues from its traditional wireline business dropped 12.2% in the same quarter.
source:
NY Times