AT&T presents VeriFone GlobalBay Solutions at CTIA 2012 – POS platform for the modern retailer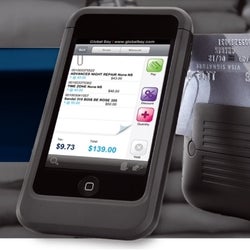 Waiting in line at a store is no fun, as all of us would agree. Thankfully, smartphones are on their way to facilitating the checkout procedure at retail outlets, and that is precisely what
VeriFone GlobalBay Solutions from AT&T
is made for. Think of it as a tool that transforms an iOS device into a POS instrument, with which sales assistants can process credit card transactions right there on the shopping floor. The technology has the potential to eliminate queues in outlets that adopt it, which will result in a more pleasant shopping experience for the customer.
The platform is flexible enough to allow customization to the needs of each individual retailer. At the same time, it is smart enough to instantly provide information about other products that the retailer is offering, should the customer request it. In addition, the tablet variant of the VeriFone GlobalBay Solutions takes advantage of the device's display real estate and can provide product information accompanied by rich multimedia content, such as videos and digital catalogs.
Retailers that are interested in VeriFone GlobalBay Solutions from AT&T are free to request further information about it from the carrier starting today. For more details, we have embedded the press release below, so do not hesitate to check it out.
source: AT&T
VeriFone GlobalBay Solutions™ from AT&T can help improve checkout speed and customer experience
Mobile Applications for Retailers, Restaurants and Hotels Allow Businesses to Process Payments and Service Customers Almost Anywhere, and Can Virtually Eliminate Checkout Lines
Dallas, May 8, 2012
— No one likes waiting in line. When shoppers find the right tee shirt, greeting card or video game, they want to pay for it right then and there – and that's what VeriFone GlobalBay Solutions™ from AT&T* allows them to do.
Available today on iOS[1], VeriFone GlobalBay Solutions™ from AT&T helps strip away the hassles of in-store shopping and can improve the overall customer experience. Sales associates armed with mobile devices can scan items, apply coupons and discounts, and complete credit card transactions from any location in the store. In addition, the tablet-based solutions provide the ability to sell items from inventory not available in the store – helping to prevent lost sales. With this solution, associates can remain engaged with their customers, quickly and efficiently.
Businesses can easily configure this mobile point of sale application to meet their specific needs. An electronics retailer, for instance, might want to load product images and information about extended warranties onto its employees' smartphones or tablets. When a salesperson scans the barcode on an MP3 player, he or she can then make focused recommendations for protection plans and accessories like headphones, cases and car chargers.
"Customers don't want to wait in line or stand around as a sales person runs off to find information on a product -- they want great service in a timely manner," said Chris Hill, Vice President, Advanced Mobility Solutions, AT&T Business and Home Solutions. "The addition of VeriFone GlobalBay Solutions™ from AT&T to our mobility portfolio helps businesses complete transactions efficiently and attentively, ultimately helping to drive new revenue generation and increase competitive advantage."
VeriFone GlobalBay Solutions™ from AT&T can also change the game in service industries, offering restaurants tableside ordering and payment capabilities, and for hotels, allowing hospitality staff to add purchases to guest room bills. By increasing customer engagement and payment convenience, businesses can have a direct – and positive – impact on revenue.
"AT&T is bringing mobile checkout and other time-saving features to enhance consumer interaction wherever payment and service is most convenient with VeriFone GlobalBay Solutions™ from AT&T apps that help increase loyalty and revenue potential while also streamlining operations," said Jennifer Miles, VeriFone executive vice president, North America.
Potential benefits of VeriFone GlobalBay Solutions™ from AT&T include:
Faster, more effective customer service that brings sales associates out onto the floor instead of trapping them behind cash registers, creating the opportunity to increase return visits and improve loyalty.
Reduction of checkout lines, which helps prevent revenue loss caused by customers' walking away from their purchases.
Easy access to information anywhere in the store, which can drive new sales opportunities.
On-the-spot enrollment in loyalty or reward programs.
Integration with existing point of sale systems (POS) to make the transition to mobile POS simple and intuitive for employees.
VeriFone GlobalBay Solutions™ from AT&T provides options not offered by typical mobile POS products:
The retailing application, designed for use on tablets, enables sales personnel to interact with customers through a rich array of information – videos, catalogs and other digital content – almost immediately. The salesperson can service a customer from anywhere in the store, with access to customer history and product information, specifications and videos. Instead of undertaking the expensive endeavor of building physical kiosks, tablets are transformed into portable, virtual kiosks.
The inventory app helps sales associates remain more engaged with their customers prior to checkout. In a shoe store, for instance, employees can perform tasks, such as searching the back room inventory for different sizes or colors, without abandoning the customer.
If a company's current POS system is out-of-date, it can move all of its payment processes into the cloud through AT&T. This practically eliminates the need to maintain information servers for payment processes in the back office, making the business more mobile than ever.
AT&T will demo VeriFone GlobalBay Solutions™ from AT&T at International CTIA WIRELESS 2012, Booth #1357.