And the first free iPhone X BOGO deal goes to... AT&T
9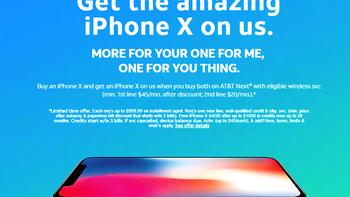 Stop the presses! Ladies and gentlemen, we have what is arguably the first BOGO deal for a free
iPhone X
from a major US carrier, courtesy of
AT&T's Next
plan. Until now, there have been
free iPhone 8 or 8 Plus
deals from
T-Mobile
and others, including from
AT&T
itself, but nothing for Apple's latest and greatest.
Analysts were predicting that
rising iPhone X inventories
over at T-Mobile could lead to BOGO deals, but we least expected this to happen with AT&T, and yet here we are, with a limited time offer on a free X and other iPhones. The deal is good for the iPhone X 64GB ($1,000), iPhone X 256GB ($1,150), iPhone 8 Plus 64GB ($800), iPhone 8 Plus 256GB ($950), iPhone 8 64GB ($700), and iPhone 8 256GB ($850), or any combination thereof, as long as it doesn't exceed $1000. That means that the 256GB iPhone X model will be discounted, but not free, as there will be $150 remaining on its price tag.
What you need to do is sign up both eligible phones of your choice for
Next
upgrade plans, pay the sales tax on the devices in full, and sign up for a wireless plan minimum $65/month of value with AutoPay and paperless bill discount. The eligible installment plans are AT&T Next (30 months up to $38.34/mo. for iPhone X, $31.67/mo. for iPhone 8 Plus, $28.34/mo. for iPhone 8) or AT&T Next Every Year (24 months of $47.92/mo. for iPhone X, $39.59/mo. for iPhone 8Plus, $35.42/mo. for iPhone 8).
The activation fee on both plans is $45. The deal is for existing subscribers, too, as long as they add the phones to eligible plans. The lines must be in good standing for one 30-day cycle to qualify, and the bill credits will start rolling thereafter for the term of the agreement, until a $1000 or lesser value is reached for the eligible iPhone that you essentially get for free in the end. Any takers?