AT&T launches AT&T Navigator
13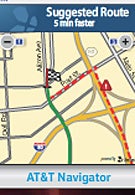 The number 1 U.S. carrier released its company-branded GPS-enabled navigation service, AT&T Navigator. The new feature is available for all GPS-capable PDAs and phones and it provides audible and visual turn-by-turn driving directions, including built-in speech recognition (currently available only for BlackBerry devices) for address entry and points of interest search directly from your phone. The last option is activated when you press a single button on your phone and speak the name of the business or address you want to find and the Navigator will help you get there. The GPS service includes mobile access to YELLOWPAGES.COM, real-time traffic updates and route information, ETA calculation for every route, plus constant updates. The Navigator also provides both flow (average speed of traffic along your route) and incident information (auto accidents, freeway construction, etc.). Another interesting feature is the Gas By Price feature. It gives you directions to the nearest gas stations, sorted lowest to highest price.
The AT&T Navigator is currently available on the
MOTO Z9
as well as the
Samsung BlackJack II
,
MOTO Q
,
AT&T Tilt
, and BlackBerry devices (
8310
,
8800
and
8820
). AT&T Navigator will also come preloaded on GPS-enabled devices that will be offered with the carrier in the future. At present, AT&T customers with compatible handsets can get the service as a free 30-day trial. If you wish to continue the service after the trial period has ended, you can either pay a monthly subscription charge of $9.99 for unlimited routes or, for Motorola Z9 users, you can use the service with the $2.99 Day Pass option.
source:
AT&T