AT&T is building you a better network says the carrier's new ads
11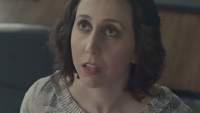 Tired of AT&T's "It's not complicated" ads with those obnoxious kids? Didn't you wonder why a grown man was sitting at a table, talking to young children. Didn't anyone ever teach them about
stranger danger
? Those ads started back in November 2012 and AT&T is finally pulling the plug on the kids and their creepy friend.
A new series of ads debuted during Sunday's announcement of the brackets for the NCAA Basketball Tournament,and focuses on AT&T's network. According to Chad Harris, executive director-marketing at AT&T Mobility, "
We're finding that consumers are curious to know why the network does or doesn't work
." While AT&T says that it is pulling back from its ads that focus on T-Mobile, the latter says that it will continue to run its "
planned media course
."
For example, in one ad, a pair of nerdy looking guys from AT&T are fine tuning the small cells on the network and one of them is explaining to a female employee that the result will be improved coverage, capacity and quality of the network. The employee still doesn't quite grasp it all, so the other AT&T engineer says that it will help her post from the break room. The tag line? "AT&T is building you a better network".
Check out the first two new AT&T ads that replace those meddling kids with a couple of nerdy AT&T engineers, by clicking on the video slideshow below.
source:
AdAge
via
FierceWireless