AT&T explains how it is improving its network besides paying Luke Wilson
This article contains unofficial information.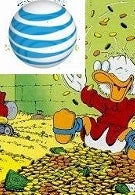 Despite talk that AT&T has been neglecting its network while still raking in the cash thanks to the iPhone, the nation's second largest cell carrier said that in 2009, it expects to have spent $17 billion to $19 billion to upgrade its wireline and wireless networks with billions spent on the latter. AT&T says it is doubling the wireless spectrum serving 3G customers in the U.S. in hundreds of markets, using the high quality 850MHz spectrum. In 2009, 2,000 new cell sites will have been added, bringing service to new cities and improving the quality and breadth of service in others. To improve the capacity between cell sites and the global IP backbone network, 100,000 backhaul connections are being added. The AT&T Wi-Fi network-the largest in the U.S.-is being opened up for customers to take advantage of the more than 20,000 hotspots in 50 states. The faster HSPA 7.2 technology will offer faster 3G service to select handsets as it is getting rolled out for service. Next year, AT&T will begin field trials of the LTE network with deployment beginning in 2011 when 4G devices are expected to be available nationwide.
If AT&T is speaking the truth, and there is no indication that they are not, the wireless operator has a plan and it is simply a matter of following the plan regardless of what the naysayers are, uh...saying. Being the exclusive U.S. carrier of the iPhone shines a lot of light on AT&T. The exponential growth of iPhone sales has really caught AT&T flatfooted and behind the curve. But the company does know there is a problem and they have resolved to fix it. Luckily for AT&T, it does have the deep pockets necessary to throw money at the problem.
source:
TheiPhoneBlog