AT&T does 180 degree change on third party app stores for its Android phones
10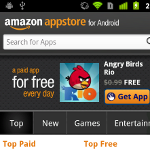 Ever since AT&T released the Motorola Backflip as its first Android flavored phone, the carrier has not allowed its Android customers to download third party apps. Thus, when Amazon launched its applications store this week, AT&T customers could not even browse the third party market.
But there is some good news. AT&T customers, the mobile operator has heard you and in a statement the company says it will allow the Amazon store and other third party application markets to be downloaded to the carrier's Android models. "AT&T plans to offer the Amazon application store for Android smartphones and we're working to give our Android customers access to [other] third party application stores," the carrier's statement said, "This requires updates to our systems and finalizing arrangements with Amazon."
What might have been the catalyst to get AT&T executives to change their mind? Could this all be happening because the Amazon online store has the exclusive rights for the Android version of the Angry Birds Rio game? Another company that offers a third party application market, GetJar, is happy with AT&T's change of heart. Marketing chief Patrick Mork said in an email, "We'd be delighted if this was the case and we welcome AT&T's move to open Android app distribution to third parties. We believe that the key to Android's success is its open nature, which should impact all elements of the ecosystem….Open distribution enhances the opportunity for developers to reach a greater audience and is the critical first step to ensure healthier monetization."
AT&T did not announce when the current restrictions would be lifted.
source:
AllThingsD