AT&T announces the 5.7-inch rugged Kyocera DuraForce XD phablet
4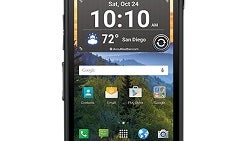 AT&T - the only carrier that can sell you the Samsung Galaxy S6 Active - appears to be heavily invested in maintaining and updating its rugged smartphone offering. The carrier has just announced a new rugged Kyocera smartphone, the 5.7-inch Kyocera DuraForce XD.
Just how rugged is the DuraForce XD you ask? Well, the Military Standard 810G-rated KyoceraForce XD can not only take a beating (drop, shock, or vibration), but the phablet can also resist extreme temperatures, solar radiation, and low pressures.
As far as the specs go, the Kyocera DuraForce XD integrates a 5.7-inch display with a resolution of 720 by 1280 pixels that can be used with both gloves and wet hands. 258PPI is not the kind of sharpness that we've come to expect from smartphone displays in the age of QHD panels, but then again, the phone isn't designed with multimedia uses in mind.
On the inside beats the heart of a Qualcomm Snapdragon chipset (unknown model) with a 1.6GHz quad-core processor, and a 3700mAh user-removable battery. Furthermore, the Kyocera DuraForce XD also comes with extra-loud (110dB peak volume) speakers on the front, which may come in handy when working in very noisy environments. Unfortunately, these are all the specs that AT&T was willing to disclose at the moment. Based on the specs of other rugged Kyocera smartphones sold by AT&T, we don't expect to see more than 2GB of RAM being equipped on the phablet, and we'd also be surprised if the phablet impresses in the imaging segment.
The Kyocera DuraForce XD will be available starting January 8th. The phone will retail for $0 down and 24 monthly payments of $14.97. Alternatively, businesses will be able to get the phone at $49.99 with a two-year service agreement.