AT&T and Verizon still at odds with T-Mobile over FCC ruling on data roaming
8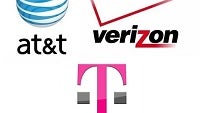 Late last year, the FCC ruled on a petition filed by T-Mobile over allegations that AT&T and Verizon were parsing language in government rules over "commercially reasonable" data roaming agreements, exploiting an advantage over smaller carriers.
T-Mobile offered some suggested benchmarks to the FCC and
the regulator agreed with Team Magenta's
recommendations, ultimately giving a win to all competitive carriers.
The new rules would allow a disputing party to levy a complaint with the FCC, and the government could consider, at its discretion, additional factors while also deciding if a proposed roaming agreement is actually "commercially reasonable."
AT&T stated it would appeal the decision to the full commission, and contended in its appeal (filed last month) that the FCC Wireless Bureau's ruling was not "reasoned decision making." AT&T further noted that the decision basically removed any measurable "standard" thus making the idea of a "commercially reasonable" assessment meaningless.
The FCC's decision last December stated, "…the data roaming rule was intended to permit consideration of the totality of the facts and therefore to permit a complaining party to adduce evidence in any individual case as to whether proffered roaming rates are substantially in excess [of rates charged by others]." Basically, the rules allow any complaint to be reviewed on a case-by-case basis, regardless of whatever "commercially reasonable" decision may have been reached.
Verizon's filing was similar to AT&T, also stating that the FCC Wireless Bureau, who made the decision being challenged, cannot make rules, only the full commission has the authority to do that. Both also asserted that the bureau issued a decision that was not congruent with broader FCC policies in place, and that the law was actually broken in the process of making a decision.
Roaming agreements, under the broader policy of the FCC, are meant to only be a complement to a carrier's services, not to serve as a primary vehicle to act as expanded coverage. The idea is to ensure service providers continue to invest in their own networks.
T-Mobile chimed in, with a rebuttal filing a couple days ago that AT&T's and Verizon's arguments are "nothing more than an untimely renewed attempt" to lean the field back in their favor. "AT&T and Verizon do not even address…the underlying premise of T-Mobile's request" that guidance was required by the FCC because the "roaming marketplace is broken." Team Magenta also stated that the ruling did not obligate AT&T and Verizon to anything new.
source:
FierceWireless