AT&T Samsung Galaxy S6 finally sees Android Marshmallow update
19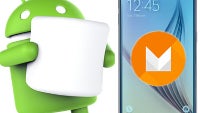 The Android Marshmallow update for
Samsung's Galaxy S6
has been doing the rounds for a while now. Numerous carriers, including
Telus in Canada
and
T-Mobile in the United States
, have since pushed the latest Android 6.0.1 Marshmallow out to users. Those wielding last year's flagship on AT&T have been left sitting on their hands, but finally, the long-awaited update is here.
As you'd expect, it's quite a sizable update of almost 1.5 GB in size. Once you've downloaded and applied it, though, you'll be able to enjoy all of the well-documented features and quirks of Google's latest bundle.
This article
serves as a run-down of Marshmallow's greatest assets, while
this post
offers a hands-on look at what's new with the Galaxy S6 and TouchWiz once Marshmallow-fied.
Since it's a large update, you'll want to be connected to Wi-Fi and ensure that you have at least 20 percent battery before proceeding. If you are an AT&T Galaxy S6 owner and have been waiting for some Marshmallow loving, head over to
Settings --> About device
on your handset and check for updates.
Once you've downloaded and applied the new firmware, be sure to let us know in the comments how you're getting on with it.