AT&T gives Mobile Share Value data plan users an offer they can't refuse
0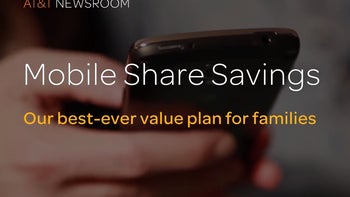 AT&T just introduced its
new unlimited data plans
on Sunday that bring its prices more in line with the movers and shakes in the competition's portfolio, and prepare the carrier's roster for the launch of its 5G data integration.
The new Starter and Extra plans blast off from just $65 a month for a single line, or $140 for a family of four, which is an excellent value considering the coverage of America's second-largest carrier.
Now, however, it is trying to recoup the effort by nudging subscribers on the older Mobile Share Value data plans to step up. AT&T began
sending out
notices that the Mobile Share Value rates will be increasing by $10, but tries to soften any future bill shocks by adding 15GB "extra" data on top of what already have. That's more than a gig for a buck, which, considering the overage prices on non-unlimited plans, is a very good deal.
Enjoy more data. Starting with your October 2019 bill, you'll get an additional 15GB of data on your Mobile Share plan. This bonus data comes with a $10 price increase.
Needless to say, the increase is legal and mandatory, and AT&T commented that Mobile Share Value subscribers can always move to one of the new and improved unlimited options. While an option to sign off the forced bonus would have been nice, there is no denying that $10 for 15 GB is a good deal nonetheless. There is also no denying that carriers will put extra effort to move you away from any grandfathered data-guzzling plans in these days when data is king.
For some, however, switching to the Starter unlimited could probably make more sense now. AT&T was just recently
fined
$60 million for throttling its unlimited plans, and the reason that the punishment wasn't harsher is that everybody is doing it in some form or another. Ditto for the new Mobile Share Value data plans hike.