AT&T CEO: it is "too early" to talk about charging for FaceTime over Cellular
11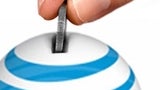 Aparently, these rumors have reached AT&T CEO Randall Stephenson, who agreed to comment on them during his speech
at the Fortune Brainstorm Tech conference in Aspen. He stated that
"it's too early to talk about pricing"
, which is far less vague than the
"
we'll share more information with our customers as it becomes available"
response from yesterday, yet still leaves questions unanswered.
Does AT&T really intend to charge for FaceTime over Cellular, and it is just not certain what the rate would be? We can only speculate on that, but when you think about it, charging for FaceTime over 3G/4G makes sense from a carrier's standpoint. After all, tests have shown that the service sucks about 3 megabytes of data per minute, and that figure might go up should those predictions of an
HD front-facing camera on the next iPhone
come to pass.
So what do you, guys and girls, think? Would you pay AT&T to use FaceTime over Cellular, as long as the rate is reasonable, or would you much rather consider switching to an alternative VoIP application? Let us know by dropping a comment.