AT&T Ad for HTC Inspire 4G brings the action, the laughs and the 4G network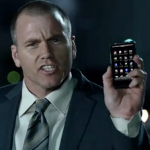 AT&T decided to go for the laughs while promoting the HTC Inspire 4G on television with a commercial. The Android device with the high-end specs is priced like a mid-range model with a $99.99 contract price, and in the television spot, the phone never leaves the hands of a bumbling Detective who accidentally is able to make the collar.
The HTC Inspire 4G has given AT&T customers plenty to think about with its 4.3 inch screen with 480 x 800 resolution, 1GHz Snapdragon processor, 768MB of RAM and an 8MP camera with dual flash. Sure, while the Motorola ATRIX 4G has the specifications that belong to the newer breed of high-end Android models, it wasn't so long ago that the Inspire 4G would have been considered at the top of the Android food chain. And when you consider the $99.99 price with a signed 2-year contract, the handset offers value which is something not talked about so much in the world of high-end devices.
source:
YouTube
via
AndroidGuys