ASUS Transformer Pad Infinity TF700 presentation video surfaces
17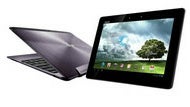 We showed you the 1st look at the
ASUS Transformer Pad Infinity TF700 at MWC
back in February, but we haven't heard much from the manufacturer in the way of a U.S. release date. While nothing is official, the TF700 has just surfaced in a presentation video on YouTube suggesting that we may be approaching a release date very soon.
The Reddit user that initially leaked the video referred to it as a "Launch Video." It is also worth noting that the folks over at Android Authority got word from an ASUS representative, who spoke on the condition of anonymity, that the TF700 would make its U.S. debut at the end of June.
We'll be sure to keep you up to date as soon as ASUS makes a release date public. To hold you over in the meantime, check out the launch video for the ASUS Transformer Pad Infinity.