ARM CEO: by 2014, mobile devices will be powerful but consume less energy
33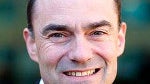 According to ARM CEO Warren East, his company's
big.LITTLE
technology is going to lead to more powerful mobile devices using less battery power starting next year. East, who is hanging up his pinstripes at the end of the year, lauded Samsung for getting the big.LITTLE technology out in some versions of the
Samsung Galaxy S4
. The international model that has the octa-core Samsung Exynos 5 processor will include the system which pairs a powerful processor with a smaller one. For power-intensive tasks like gaming, the powerful silicon is used. For light housekeeping, the phone drops down to the less power hungry model, which saves battery life.
East said that he has
17 partners
licensing the big.LITTLE technology including the Korean based Samsung."
I'm not surprised that Samsung managed to get a big.LITTLE phone to market this year because they are a very capable, determined outfit and there is a lot of marketing kudos in being first to market
." But he believes that 2014 will be the big year for ARM.
The executive expects to see demand for computing power expand
30 times
over the next decade but sees battery capacity only having to double over the same time period. The company licenses its IP to customers and East says that ARM succeeds by talking to customers and its customers' cusatomers to better serve the markets it covers. He also noted that doing the right thing doesn't always mean moving in a straight line. "
Take big.LITTLE for instance: we introduced the A9 processor then the A15 and then A7. It's a bit like rock climbing, you don't take all your limbs off the wall at the same time
," East said.
source:
Techradar