ARCHOS unveils new Platinum Range of Android tablets
15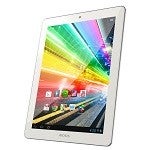 Today ARCHOS announced three tablets in its new Platinum Range covering different sizes and high resolution displays.
This new line-up has the benefit of having virtually the same specs no matter which size tablet you choose. You will be able to choose from the 8-inch 80 Platinum, 9.7-inch 97 Platinum and the 11.6-inch 116 Platinum. The best part is that these tablets start out with some great prices. The 8-inch starts at $199
All three tablets share a quad-core 1.2GHz CPU with an 8-core GPU, 2GB of RAM, Android 4.0 Jelly Bean, front and back cameras (albeit only 2MP rear, "webcam" front), mini-HDMI and support microSD. The only differences between the three are the screen sizes and their respective resolutions.
The ARCHOS 80 Platinum will be available this month, and will cost $199. The ARCHOS 97 Platinum will also be available in February and will retail for $299. The ARCHOS 116 Platinum is expected to be available in April and will run $349.
No press images of the 116 Platinum are available, but as you will see from the pictures below, the designs are basic. That is fine, as the price of admission is not expected to provide access to anything exotic. ARCHOS points out that its 80 Platinum tablet is an affordable alternative to Amazon's Kindle Fire HD 8.9 and the 97 Platinum has a resolution comparable to the iPad, but 40% less expensive. The 116 Platinum is "unlike anything currently on the market."
Speaking of screen resolutions, the 116 Platinum is packing a resolution of 1920x1080 IPS display which works out to 190ppi. That seems low given all the HD smartphones we have been seeing lately, but it is perfectly adequate for a larger display like this. The 97 Platinum is the jewel of the trio, with its 2048x1536 IPS display providing a respectable 264ppi. Finally the 80 Platinum, being the more budget friendly tablet has a 1024x768 IPS screen.
If you have been looking for a basic form factor that covers all the bases in a tablet, this new Platinum line from ARCHOS may be worth considering.
sources:
ARCHOS
via
Electronista
ARCHOS Platinum Range of Tablets