ABI Research says the Moto X "trumps Apple in engineering design and creativity"
66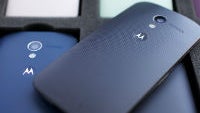 We've are fans of the Motorola Moto X. The ideas behind the device are solid, the customizations are just right, and we like the Moto Maker options (although it would be nice if it would finally ditch AT&T exclusivity.) We've even defended the
Motorola X8
chipset as underestimated because the coprocessors are something completely new. But, ABI Research would like to take up the cause now, and ABI has some pretty bold statements to make on the Moto X.
ABI Research did a teardown of the Moto X and considered all of the choices made by Motorola/Google in developing the device, and came to the conclusion that the Moto X "outpaces competition with new innovation." Basically, the thinking is that the Moto X is showing real creativity by a handset maker, while the new iPhone 5s and 5c "show only minor improvements".
ABI was not only impressed with the power efficiency of the always-on voice command option of the Moto X (thanks to the X8 coprocessor) and form factor, but calls the display "much underrated" and lauds the Moto X for its energy usage. It seems that the Moto X's display packs in 20% more pixels than the iPhone 5s, but uses 2.5x less power than Apple's flagship.