A year after: Foxconn shows first signs of improving working conditions, Apple gets a lot of the credit
13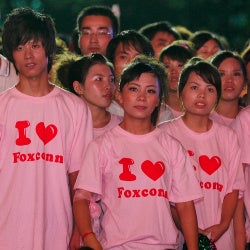 Nearly a year passed since the New York Times came up with an eye-opening report about working conditions at Foxconn, a Taiwanese manufacturer of gadgets for companies like Apple and best known for making the iPhone and iPad. It was no secret that working conditions for overseas workers were far from good after suicides, plant fires and lots of other smaller incidents, but it was the scale of the problem that we had to come to grips with.
A year after, Apple has taken a proactive stand, cutting off overtime work, pushing a salary increase and overall improvements in the conditions of those thousands of overseas workers. And the first fruits are starting to show.
In a follow-up report, the New York Times confirmed reduced working hours and better wages, all happening after a meeting between a top Apple executive and Foxconn execs.
Working and living conditions both have to improve, though, as Foxconn factories are cities on their own with thousands of employees. While the company is quickly introducing more robots in manufacturing, it has also brought more comfortable chairs for the workers and automatic shut-down for some of its machines.
While Foxconn makes electronics for all sorts of companies, it was Apple who took the lead and pushes the reforms.
"The days of easy globalization are done," an anonymous Apple executive explained. "We know that we have to get into the muck now."
And that's a good thing.
source:
NY Times