A thorough Corning demo of Gorilla Glass with anti-reflective coating shows what the future holds for smartphones
22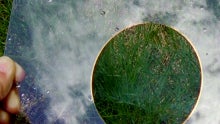 With summer right around the corner, many of you will soon come to the sad conclusion that not all smartphone displays were created equal. Indeed, even today, we continue coming across modern devices that prove absolutely unsuitable for use under direct sunlight, and some even struggle in an overcast day.
So why is that? In a nutshell, a phone's level of usability in the great outdoors is usually defined by a relationship between brightness and screen reflectivity. I.e. the higher the peak brightness, and the lower the screen reflectivity, the easier you'll make out your display -- even under direct sunlight. Unfortunately, most devices either have low peak brightness or high reflectivity, and quite a few suffer from both. Thankfully, it appears that Corning is close to delivering a fix that should, in time, at least partially alleviate this issue.
We first reported on Corning's efforts on producing Gorilla Glass with anti-reflective coating a year ago
, but it seems like the company is now finally close to getting those on the market, or at least confident enough to demo its new product to the press. In the below, three-and-a-half-minute long demo, you can see just how much of a difference a possible future Gorilla Glass 4 could make. Apparently, the company's prototype reflects just 1% of incident light (most solutions currently sit at around the 5% mark), which is getting pretty close to the physical limit. Take a look.