A quick hands-on look at 5 iPhone 6s cases
4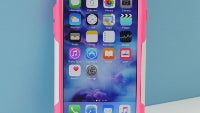 When it comes to cases, we slap one on kind of begrudgingly. But while most of us would like nothing better than to go commando and showoff our new toy, ensuring that the investment is well protected is often a bigger concern. After all, drops happen, and wear and tear are unavoidable. Even if you're extremely careful, chances are your iPhone will end up with quite a number of scuffs in a few months time, and nobody wants that.
So cases are a necessity. Knowing that, we sourced a few rival solutions from UK-based
MobileFun
to take a look at and test. Here's what they look like, what they cost, and what they offer.
Otterbox Commuter for iPhone 6s
MSRP: $39.90
Unlike, say, the Otterbox Defender series, Commuter cases come without a built-in screen protector and optional belt holster, and are therefore less protected from accidental damage. On the other hand, this means that you're wrapping your iPhone 6s not in a monster of a case, but a more compact and less intimidating shell.
The Otterbox Commuter comes in various color combos, with the inner, gel shell working together with a sturdier plastic piece. That same soft shell on the inside is responsible for covering the phone's Lightning jack and 3.5mm audio jack, which means you'll have to fiddle with them on a daily basis. This being a rugged case and all, Otterbox is also including a screen protector for you to apply. Overall, the Otterbox Commuter for the iPhone 6s feels like a reasonable
Obliq Skyline Pro for iPhone 6s
MSRP: $29.99
Like the Otterbox Commuter series, the Skyline Pro case has two layers: a rubbery base with a smooth plastic piece adorning the back and sides. As can be expected, access to ports and such is available, though there are no flaps like with Otterbox's solution. The rubberized covers for the power and volume keys are flexible enough to allow relatively easy use, though they're still on the uncomfortable side. On the back, there's a long, vertical slit, which is to be used with a credit card-like plastic—included in the package—for a makeshift kickstand. If you lose that one, you can still use any plastic you have in your wallet.
Olixar Leather-Style wallet case for iPhone 6s
Price: ~$20
If you're instead interested in something a bit more traditional, Olixar's Leather-Style wallet case for the iPhone 6s might just be what you're looking for.
As can be expected, the wallet part means that your iPhone 6s will be protected from both frontal and rear attacks, though keep in mind that, mid-flight, there's nothing stopping your bad luck from swooshing the door open. As with other wallet-type cases, this one means rather awkward access to the volume keys on the left side, unless you snug the door behind. In any case, Olixar's solution is functional in that its cover can be used to store credit cards and/or cash in one of the (two) available pockets, and also doubles up as a kickstand if and when needed.
Olixar FlexyShield Gel case for iPhone 6s
Price: ~$11
All of the cases so far add quite some bulk to your otherwise slim iPhone 6s, which is obviously not ideal. Thankfully, there are quite a few cases out there that add minimum thickness to your iPhone 6s, like Olixar's FlexyShield Gel case.
Available in a number of translucent hues, this extremely thin case will not work for everybody, as it offers only basic protection. Sure, the back and sides are, for the most part, protected from accidental jags, but we wouldn't count on it to save your iPhone 6s if you drop it from 10 ft. on its face—despite the small lip up front. The gel material is also a magnet for fingerprints so suggest you stick with a darker model—like Smoke Black—as there are no 'legs' propping up the case from surfaces, so you can expect its exterior to deteriorate rather quickly.
enCharge battery case for iPhone 6s
Price: ~$27
Extra power is something that nobody can say no to. But if you're thinking about a battery case like enCharge's 2,800mAh solution, then you'll also have to settle for quite some extra bulk.
Once added on top of your iPhone 6s, you'll need to connect a small Lightning plug to the iPhone 6s' port on the bottom, and it'll start charging. The case offers free access to all keys and ports (except the Lightning connector, which can be freed if needed), though don't count on it to save your iPhone 6s from a face-on drop—there isn't even a lip to stop the damage.