A pair of red & blue 3D glasses will be included with the T-Mobile G-Slate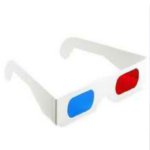 When it comes to accessories that are packaged along with our gadgets, it's very rare to find people getting excited over customary items – like a microUSB cable for example. Well, if you're planning to pick up a T-Mobile G-Slate in the near future, you'll be ecstatic to find a peculiar accessory included that's not something you normally expect.
No, it's not one of those fancy active 3D glasses that are used with some high-end 3D television, but rather, the T-Mobile G-Slate will include a
pair of nifty (also retro) 3D glasses
. However, they're simply nothing more than the old school
red and blue variant
. Still, you'll be able to chuck them on and check out images and videos taken with the tablet in 3D.
Currently, we know that the tablet will be
selling for $529.99 with a contract
, but we're still clueless in regards to its no-contract pricing and official release date.
source:
T-Mobile
via
TmoNews